Play Now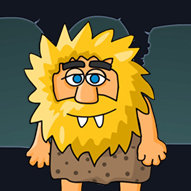 In Adam and Eve Night, the supernatural forces called Adam in the middle of the night, and he found himself in Transilvania! Surrounded by bats, vampires, and other creepy creatures, our brave caveman needs your help once again. Can you help him escape this nightmarish place and return to his home?
After a whole day of adventuring and hunting dinosaurs, Adam needs a good night's sleep. Unfortunately, there's still one adventure he needs to complete. The objective of this game is to help Adam escape each level by solving different puzzles and getting rid of obstacles to clear a path for him. Just like in the other games of this popular series, you only need your mouse to play this game. Things can be a bit more challenging than before because the night covers everything like a blanket, and you'll need to find your way through the dark. Click on different items on the screen to see if they do anything. Press buttons, pull levers, and click on other characters. Find the keys to unlock the doors, avoid enemy characters, and try to keep Adam alive. Once you think the path is clear, click on Adam to make him escape the level. If he shrugs, that means there is still something blocking his way. Good luck and enjoy!
Sleeping is for resting, but this brave caveman can tackle even the most challenging obstacles with his eyes closed, literally. Join him on his another adventure, Adam and Eve: Sleepwalker. Have fun playing!
Developer
Functu developed Adam and Eve Night.
Features
Colorful 2D graphics
Intuitive controls
Puzzle filled challenging levels
Entertaining gameplay
Funny characters
Controls
You can use your mouse to play this game.