Play Now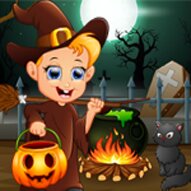 Bring the spookiness back with Halloween Hidden Objects! Did you miss the yellowish mystery of Halloween time? If yes, let us introduce you to this fun game to spend some time reminiscing the scary feelings you had during Halloween. Can you follow the rules and complete the game?
In this game, we are inviting you to close your eyes for a second and imagine being entrapped in a scary abandoned house. The spookiness level is at the top, and you need to escape this place as soon as possible. But to get through the frightening spider webs and skulls, you need to find some hidden objects. Only then, the puzzle will be solved, and you will be able to go out. There are 8 levels to pass before you complete the game. To pass each level, you must complete a list of tasks. You will be given a list of objects. In that list, you will see how many of those items you should find in the pictures. You should find all those hidden objects in a limited time. You can always get a tip by clicking on the magnifying glass icon. Just be careful not to randomly click on the pic because you'll be losing some points for each wrong move. When you find all the hidden objects, you can see the next level. So, now build up your courage and see if you can complete all the levels by finding all the missing objects!
If you want to play more hidden object games like this one, check out Mystery Venue Hidden Object by clicking here.
Developer
Lof Games developed Halloween Hidden Objects.
Release Date
October 20, 2021
Features
• 2D colorful graphics
• Intuitive controls
• Spooky and colorful background visuals
• 8 levels to complete
Controls
You can use the mouse of your computer to choose the objects.