Mahjong Connect Halloween
Play Now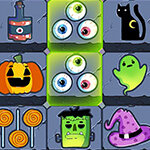 In Mahjong Connect Halloween, the spooky season is here and the monsters have invaded the board. Witches, zombies, and many other creatures are waiting for you. Can you complete each level and clear the board from these scary monsters?
The objective of this game is similar to the classic mahjong but the gameplay is a bit different. You try to clear the board by pairing identical tiles with each other. You can play the game with your mouse, so click on the play button on the main menu to start. When you begin, you'll see many different tiles on the board. Click on one of them and then try to find its pair. Once you find it, click on it to make both of them disappear from the board. Keep doing this until you completely clear the board. But to link them, they need to be close to each other. If you see other tiles between them, you should clear them first. At the top of the screen, you can see the level you're on, the time you have. Sometimes you might feel stuck and can't find pairs. If that happens, click on the hints button at the bottom to reveal eligible pairs. Have fun!
Don't stop now! Go and play our other game Mahjong Alchemy. Enjoy!
Developer
Azerion developed Mahjong Connect Halloween.
Release Date
October 11, 2019
Features
Colorful 2D graphics
12 levels to complete
Sİmple controls
Addictive and entertaining gameplay
Controls
You can play this game with your mouse.