Play Now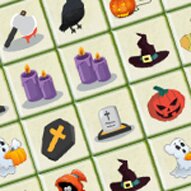 Are you up for a spooky connect game in ONet Halloween Links? Use your mind to get the best scores in this fun new connect game. There will be 27 levels waiting for you. Can you complete all the levels and finish the game?
Here, you will have a series of levels that will give you a table full of tiles. In this 70-tile table, you will have recurring images. Your main task in this game is to connect the identical tile, as the name suggests. You should choose two identical tiles that are adjacent to each other. Other than adjacent tiles, you can choose two tiles that can be connected with a path that has no more than two 90-degree angles. You should expect some added difficulties like floating tiles on some levels. To pass the level you need to connect all the tiles and clear them off the table. To achieve this, you have 5 minutes! Also, don't forget that you have the chance to shuffle the tiles and get a hint. Now, clear your mind and try to clear the table of all the tiles within the given time!
If you want to play more connect games, you may take a look at Mahjong Connect Remastered.
Developer
GamesFine.com developed ONet Halloween Links.
Release Date
October 22, 2021
Features
• Colorful graphics
• Intuitive controls
• Entertaining and addictive levels
• 27 levels to complete
Controls
You can use the mouse of your computer to connect the tiles.