Play Now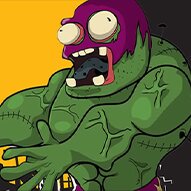 If you can't run away from scary zombies, make peace with them in Killer Zombies Jigsaw! This spooky yet addictive game presents you with the scariest zombies of all time. This time you can come to peace with them in a mind-working game that is puzzles!
You have most probably seen better and more peaceful images before but this time it is not all roses. Here, you have 6 pictures of scary zombies from an eerie toddler to a brain-eating zombie. Your task is not to fight scary zombies but to complete the puzzles of their ghastly pictures. In this spooky puzzle game, you have 6 puzzles. For each picture, you can choose the easy mode, the medium mode, or the hard mode. In the easy mode, there are 25 puzzle pieces. In the medium mode, there are 49 puzzle pieces and in the hard mode, there are 100 puzzle pieces! Thankfully, there is no time limit whatsoever. You can't fail a level because you put a piece in the wrong place, either. You are totally free on a black canvas to freely try out the pieces until you get the whole picture. Now, get ready to feel the scary breezy and test your puzzle skills!
If you enjoyed playing this spooky puzzle game, you should also play Spooky Memory for free and online by clicking here.
Developer
STA network developed Killer Zombies Jigsaws.
Release Date
October 21, 2021
Features
Colorful graphics
6 spooky puzzle pictures
Fun gameplay
3 different difficulty levels
Intuitive controls
Controls
You can use the mouse of your computer to slide the puzzle pieces.