Play Now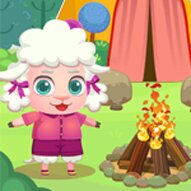 Prepare yourself for a wonderful day with friends in Funny Camping Day! You have a whole camping day for yourself and your friends to spend together. Nothing bonds a group of friends better than an intense camping day full of activities. So, get your camping equipment and hop on the bus. Are you ready to spend a fun day camping with the people you love?
In this fun game, you can enjoy the cuteness of a group of friends. The group of cute sheep, a beautiful fox, a nerdy squirrel, and a camp expert zebra are waiting for you to get the most out of a fun friend's day-out. Get them off the bus one by one and lead them to the camping area. These friends all have their own responsibilities, and you can help them out! The essentials of camping include cleaning around, setting up your tent, fishing, and chopping tree woods. Now, you can experience them all by helping your little friends. When you do all the work, you can finally ignite a bonfire. You can cook the fish you got and prepare yourself a delicious, skewed BBQ. Then, all you need is to have fun and get the best out of your camping night. So, relax, have fun with these fun and relaxing mini-games and complete a whole day with these cute friends.
Did you have fun playing Funny Camping Day? If yes, then you should also try playing Adam and Eve GO by clicking here.
Developer
iclickgames developed Funny Camping Day.
Release Date
November 15, 2021
Features
3D colorful graphics
Cute characters
Fun mini-games
A game of a full adventurous day
Controls
You can use the mouse of your computer to complete the tasks and follow the instructions.