Play Now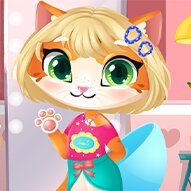 Follow a fun to-do list to give classy kitties fabulous haircuts with Funny Kitty Haircut! The horrible haircuts of cats have become one of the most terrifying facts of our day. Luckily, few honorable are giving beauty saloon services to these sad kitties and granting them at least decent looks. This is your day to shine with this holy duty!
There are four main steps ahead of you, but don't let this number intimidate you, as there will be tips along the way. Start the first step by getting rid of the bugs on your sad client's head and reviving the dead hair around that damaged area so you can have something to work with. Unlock achievements by successfully completing your quests. Complete the first level by styling her clean hair and coloring it. The second step takes you to the kitty's wardrobe and allows us to dress her up. The next level brings us another cat with hair that needs urgent care. End her misery with stylish braids. Dye and decorate her braids, and doll her up as well. See to your clients' needs and help them find the right style for themselves! Try new combinations to unlock all achievements, give these adorable creatures healthy and stunning hair, and dress them up compatibly to create harmony!
If you are into clothing and makeup games, you can check out our Girls Games category by clicking here!
Developer
Iclickgames developed Funny Kitty Haircut.
Release Date
April 19, 2022
Features
Detailed cosmetic and clothing options
Easy to play
Fun for all ages
Available on mobile devices
Controls
You can use your mouse to play this game.