Play Now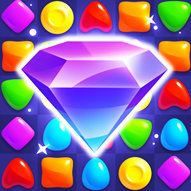 Skydom invites you to the united worlds of the 3-match kingdom! Are you ready to discover each world with various sceneries and challenging adventures? With your own character, no one can stop you from completing the levels and open the gates for more exciting new adventures. You are only one step behind to find the precious jewels and become the ruler of the worlds. So, start the game now and enjoy the journey!
In this magical realm, head over the clouds and join the fun matching world of many jewels and snacks. When you start the game, you will choose a character icon the most fits you. Every challenging level has a different objective that you must complete. After choosing the level, click on the play button to start the level. At the top of the screen, you will see your target item and the necessary number to be collected. Match at least 3 same items either horizontally or vertically. You also will be competing with the other players on some levels. After clicking on the level number, check the left top side to see if it is a competition level where you fight against others. By matching 4 or more same items, you can create different power-ups. As you progress in the game, various boosters will be unlocked to be used whenever you need them. Good luck!
To play other 3-match games with different themes such as with delicious desserts, be sure to check our collection of free and online puzzle games by clicking here.
Developer
Pew Pew Pew developed Skydom.
Release Date
February 26, 2020
Features
Colorful 3D graphics
Multiple adventures to begin
Various power-ups to find out
Various boosters to unlock
Controls
You can play this game with your mouse.