Play Now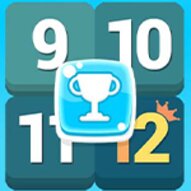 Get 12, if you can! All you need to do is to match the same numbers. How can it be difficult? The answer is all hidden inside of the game. If you are one of those who like challenging themselves with brainstorming and strategical thinking, you are invited to this fun puzzle adventure. But first, purge your brain and relax. Because you will need those feelings once you get in the game. If you are ready now, let it begin!
Do you like playing with the numbers? If so, you are going to fall for this fun puzzle game. You can train your brain by brainstorming and improving your strategic thinking skills. The only objective that you should be following is to match the same numbers. Match till you reach the number 12. Click on the number 1 and another 1 to get 2. Then, match the 2 with another 2 to get 3. When there are no same numbers to match, the game gets stuck, and you should start from the beginning. It will be easier to continue when you get the logic of the game as you proceed. You can track your best score and your current score from the top of the game screen. If you are ready to play now, then let's see until which number you can proceed now!
What about training your brain even further with our other fun adventures? Be sure to check our collection of online and free puzzle games to browse more fun titles like this game.
Developer
Gamesonline.co.id developed Get 12.
Release Date
June 16, 2021
Features
3D colorful graphics
Endless puzzles to enjoy
Playing with numbers
Fun and addictive gameplay
Controls
You can use your mouse or finger to play this game.