Play Now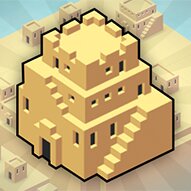 Build your metropolis by merging buildings with City Blocks. Start with the smallest huts and keep building to reach a population of millions by precise city planning! Get rewarded with jokers for leveling up your buildings successfully and use them as lifesavers in the late game!
Gods have given you a land rising above the clouds waiting to be used settled by your people! There will be limitations, of course. The downside of having a city built on the clouds is that you cannot expand it when needed. That's where the planning part comes in. You start with small houses that accommodate four or eight residents. By merging at least three of the same buildings, you can level them up and build one bigger house used by a bigger crowd. The new building will be placed on the last tile you used. The more crowded your city is, the more tiles occupied. Make sure you are using this space wisely so as not to run out of tiles because that means the game is over. You can always save the game for a pause and continue when you wish to. Do you have what it takes to keep this city in order?
If you like this merging game, you can check out Merge Fruit and challenge yourself with a similar puzzle in which different physics rules apply.
Developer
DevDude developed City Blocks.
Release Date
March 16, 2022
Features
Colorful 3D graphics
Simple and bright theme
Easy controls
Addictive and endless gameplay
Improving strategy skills
Controls
You can use your mouse to play.