Play Now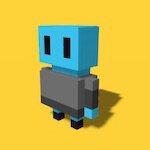 In 3D Pixels, get ready to build all kinds of figures! In this entertaining building game, everything is possible! You can create anything you want! It all depends on your imagination. Are you ready to create some really wonderful objects?
Have you always tried to model building and painting? This game is the perfect combination of the two! In this game, your objective is to construct different objects. And the controls are pretty simple so you can enjoy the game without having to learn any rules. Simply click on a figure you see in the collection. You can start by creating alien, animal, and floral figures. After choosing a figure that you like, carefully build the model layer by layer. Each one has a different number of layers and a layer consists of different numbers. Click on a number you see and hold it. Then drag the mouse across the numbers and paint them. When you paint each layer, you finish the model, and you can start creating another one. You can play the game on a daily basis and get daily rewards. You'll never know what gift you'll receive! Play now and start creating impressive models!
If you like playing puzzle games, then be sure to check out Blockz and start clearing the colorful neon blocks!
Developer
3D Pixels was developed by Funtomic.
Release Date
November, 2018.
Features
Colorful 3D graphics
Daily rewards to unlock new models
Different models to create
Entertaining gameplay
Controls
Use your left mouse button to play this game.