Play Now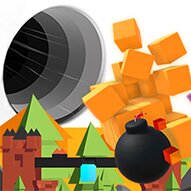 In Hole vs. Bombs, it is time to control a hole! With its fun and colorful graphics, you can't leave the screen for hours! Are you ready to see all of the levels and complete them in this fun puzzle game? Have fun and good luck!
Any idea what it's like to control a hole? If your answer is no, this game is for you to try! The only purpose of the hole in this game is to swallow everything and grow itself! Can you help with it? If you are, click the play button to begin right away. To play this game, all you need is a mouse. Because any trip begins with little steps, the first stages will be simple. To control and move the black hole across the table, use the left mouse button. To complete each level, try to eat all of the yellow boxes. As you proceed with the game, you'll notice several boxes on the table that you can collect. Keep an eye on the bombs, though. These bombs can kill you because you aren't that big yet. To finish the level, don't collect them. How many levels do you think you'll be able to finish? Good luck and have fun playing!
If you want to play more 3D games be sure to check Black Hole.io, too.
Developer
Digi Smile limited developed Hole vs. Bombs.
Release Date
January 12, 2021
Features
150 levels to complete
3D colorful graphics
Intuitive controls
Fun and addictive gameplay
Controls
You can use your mouse to play this game.