Play Now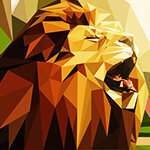 In Poly Art 3D, minutes of relaxation and satisfaction are waiting for you! Just sit back and relax. These vivid and 3D art pieces will take you to a world of imagination. You can't even guess how much time you will want to spend in front of this fun puzzle game while rotating the magic clouds to make them a whole image. Now, let your imagination goes with the flow!
Welcome to one of the most relaxing puzzle games, which will fascinate you with various art pieces in its gallery! Just sit back and empty your mind. Because your objective is to create beautiful poly-art by rotating the magic cloud! When you start the game, you will be directed to the gallery, where you unlock the levels and fill the empty spots with completed images. After selecting the level, you will see a cluster of different colors and shapes. What you should do is rotating the cluster from left to right or up to down. You can also rotate horizontally or vertically to create a whole image with those clusters. Try to be foresighted a little bit using your imagination and guess the possible image. If you are ready for many levels of entertainment, let the show begin!
Here is another similar 3D puzzle game 3D Logic 2 in which you can use your imagination and foresight while solving the challenging levels!
Developer
ConchGame developed Poly Art 3D.
Release Date
January 7, 2020
Features
3D vivid graphics
Several levels to complete
Different categories of images
Fun and addictive gameplay
Controls
You can play this game with your mouse.