Play Now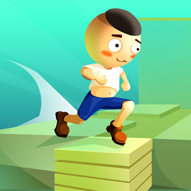 In Stack Maze, a colorful 3D world of puzzles and challenging levels are waiting for you! Be prepared to face obstacles and master them with your smart moves. How many points do you think you can earn in this addictive game?
Sometimes there's nothing else to do other than facing the challenges and doing your best to overcome them. Just like that, your objective in this game is to tackle the obstacles in each level and reach the finish line. You can use your mouse to play this game, so click the start button on the main menu to begin. You should collect enough tiles in the stack under your character to pass the platform. Swipe your mouse in the direction you want your character to move. Be sure to collect all of the tiles, as these will elevate your character and give you points. Also, when you hit the finish line, you'll move forward until the tiles in the stack under your character end. The value on the spot you land will be added to your score. So the more tiles you have the more distance you can travel and the more points you can earn after reaching the finish line. You can unlock rewards and different character skins too! Enjoy!
Check our other free and online skill games to challenge yourself and have fun!
Developer
Vigoo.com developed Stack Maze.
Release Date
December 30, 2020
Features
Colorful 3D graphics
Different characters to unlock
Multiple fun levels to complete
Intuitive controls
Different rewards to get from chests
Controls
You can use your mouse to play this game.