Play Now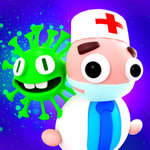 In Bless You, hop hop around the map and find your way out of the hospital floors! This chubby doctor is looking for a way out. But his path is covered with many germs and items that can affect his health negatively! You should help him reach the exit door safe and sound. The hospital may be a big one, but with you on his side, there is nothing that can stop you! So, let it work now!
Of course, like everybody else, the doctors can get sick too! Our chubby doctor is trying to find his way out of this huge hospital. In this escape themed fun skill game, your objective is to control the character with your mouse and direct him towards the exit door. But you have to be careful! Because every floor is full of germs and hard objects that can harm him. So, you should try not to get closer to them meanwhile finding your way to exit. For some floors, you may need extra items like keys to reach the exit door. If you hit any germs, it will reduce your health which you can see at the right top of the screen. You can refill your health by visiting the first aid kits on the wall. Good luck and fun!
Be sure to check our collection of free and online skill games to browse more fun titles that you can challenge yourself like this game.
Features
3D colorful graphics
Endless levels of fun to enjoy
Intuitive controls
Entertaining and addictive gameplay
Controls
You can use your mouse to play this fun game.