Play Now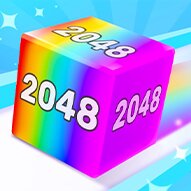 Throw cubes to merge numbers with Chain Cube: 2048 Merge! Fight gravity while solving number puzzles! Work on your puzzle-solving skills while getting some help from your luck, and take your best score one step further with each try! Keep the blocks on the other side of the line like your life depends on it!
This new version of the world-famous classic number puzzle will blow your mind! The legend is back with increased challenge levels; prepare yourself for the new rules! Flex your finger muscles and ready your throwing arm; we will throw some number cubes! The main goal of the game is to match the same-numbered cubes by throwing them at each other and leaving as much space on the table as possible. The blocks will start piling with time; do not panic and keep planning every move before throwing new cubes. Do not hesitate to take your time before making moves, and you will realize the boost in your high score. Give a little push to the pile to make the blocks contact each other and merge them. Keep doubling the numbers, and take your best to the next point with each match! Keep playing to get better and become a block merging master!
If you like this number puzzle, you can check out 2048 X2 Merge Blocks and take the game to a 2D world!
Developer
CASUAL AZUR GAMES developed Chain Cube: 2048 Merge.
Release Date
September 5, 2022
Features
Colorful 3D graphics
Addictive number puzzle with a twist
Improving puzzle-solving skills
Unlockable booster
Available on mobile
Controls
Click or tap to send the cube.