Play Now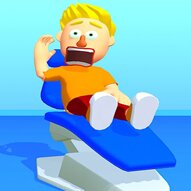 In Ear Clinic, it is time to be a doctor for you! Have you ever dreamed of being a doctor? Even if you haven't dreamed of it, you can experience what it's like to be a doctor in this game! But remember, you only treat ear diseases! If you're ready, let's get started, your patients have lined up at the door! Good luck!
Everyone dreamed of a job as a kid! What was yours? Or to be a doctor? If so, in this game you can experience it and see how good you are at being a doctor! A large number of patients come to your clinic. To remove all of the earwax, you must use various grasp tools. However, ear canals are fragile, so be careful not to damage them. Are you up to the challenge? The goal is to provide correct treatment to your patients while also improving your clinic's earnings. With the coins you earn from patients, you can transform this regular room into a professional clinic room. Drag your mouse in the directions indicated by the guide arrows at the bottom of the game screen. The improvement will display in the shop automatically if you select the shop icon from the main menu. Remember to keep track of your current level and progress from the game's home screen! If you're ready, doc, get started on this career right immediately! Have fun!
If you want to try another game similar to Ear Clinic, then be sure to check Mini Skin Doctor by clicking here.
Developer
BPTop developed Ear Clinic.
Release Date
July 21, 2021
Features
3D colorful graphics
Multiple levels to complete
Clinic improvement from the shop
Fun and engaging gameplay
Controls
You can use your mouse or finger to play this game.