Girls Photoshopping Dressup
Play Now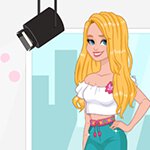 In Girls Photoshopping Dressup, it is time for you to show off your outstanding style! You are the most popular stylist in the world, and you receive a big project to prove yourself. There is an oncoming fashion photoshoot, and you will be the expert who prepares all the models. Start with choosing your model and give her the best look possible now!
Here comes the big day of the year! The special photoshopping event that you were waiting for a long time now is today! There are two girl models that you should recreate from the beginning. Click on one model, choose her skin color, and pass to the fashion stages! The head of the project gave you a list of styles that you should fit. Select the items carefully because in the end your designs will be evaluated. You can buy the items from the shop with the money provided by the photoshoot. You won't be able to try the items before buying them. So, be sure to check your remaining money in the game from the left top of the screen. Visit the five rooms of different styles on the right side of the screen. After dressing the model, you can click on the photoshoot button and see your evaluation. If your design is not good enough you can try again. Good luck!
You should see our collection of free and online girls games by clicking here to enjoy more colorful adventures like this one.
Developer
Agame developed this game.
Release Date
August 30, 2017
Features
2D colorful graphics
5 stages with different styles
2 characters to dress up
Tasks to complete
Controls
You can use your mouse to play this game.