Play Now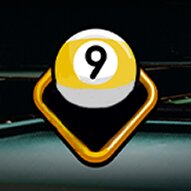 Feel a friendly competitive atmosphere with the energizing music and realistic 3D graphics with 9 Ball Pro! Try out a fun version of a classic pool game; play against the game and choose between three difficulties, or invite a friend and run against each other.
Before starting, you can check out the language options from the top right and choose another language. Now we can get into the game! Choose an opponent; will you compete against a bot or a friend? The bot option comes with three difficult choices from easy to hard. If this will be your first game, going with easy mode would be the best to learn better. The name 9 Ball comes from the main rule of the game: you start from the lowest-numbered ball and pocket all balls in that order. Pocketing the white ball or not hitting the next ball on the list is a fault. Move the billiard cue to aim, check the impact on the targeted ball, and pull to adjust your hitting force. Release your finger or mouse to send the ball and see how you did. Score to gain another shot, and do not leave a chance to your opponent! You can see the scores above and set new goals to master the pool!
If you like online ball matches, you can check out Rack'em 8 Ball Pool and play against other players online!
Developer
Code This Lab srl developed 9 Ball Pro.
Release Date
April 13, 2022
Features
Realistic game experience
1P and 2P options
Difficulty choices
Available on mobile devices
Controls
You can use your mouse to play this game.