Street Mayhem: Beat Em Up
Play Now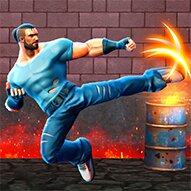 Meet three invincible warriors of the arena, carry the fight to four authentic maps, and show them what you are made of with Street Mayhem: Beat Em Up! Explore the realistic fighting simulation with three-dimensional surroundings, try unique combos and special attacks, and defy your friends in a reality where fists do the talking!
Unravel the thrilling story of Edward, Russell, and Jennifer through a breath-taking adventure of martial arts! You have two different options ahead: a multiplayer quick match mode and the storyline. The multiplayer mode allows both players to choose between three character options and four arenas and compete with each other under equal circumstances. You have City, Dark City, Forset, and Castle as arena options. The story mode, on the other hand, starts with Edward as the main character on the City map. You face different and more advanced enemies as you move forward between maps and fight toward the top. Defeat challenging enemies, unlock new maps, and earn from your fights. Stop by the character shop between rounds and unlock new characters with unique fighting styles. Take down who dares stand against you and prove your skills in the arena!
If you like this 3D fighting game, you can check out Super Boxing Fight Night and put your gloves on for the show!
Developer
RHM Interactive developed Street Mayhem: Beat Em Up.
Release Date
May 18, 2022
Features
Amazing 3D graphics
Two game modes
1P and 2P options
Four maps
3 different characters
Controls
Player 1 can use "W, A, S, D" to move, the spacebar to jump, "H" to block, and "F, G" to attack, while Player 2 can use the arrow keys to move, "L" to jump, "P, O" to attack, and "I" to block.