Play Now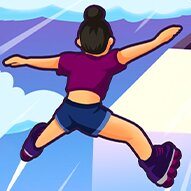 Roll over all the obstacles in Sky Roller! You are a great roller-skater, and you like to take big risks. Now, let's see how far you can go in one of the most fun yet most dangerous platforms out there. Are you ready to use your skills to the end in this game?
Here, you will find yourself rolling skates up in the air. It will be a matter of seconds for you to dive into the excitement of this world thanks to the great 3D graphics. There are endless levels for you to skate in this game. Each level comes with a different platform with different challenges. The most important part is to spread your legs according to the obstacles. Try not to trip over the obstacles and be sure to adjust your legs accordingly when there are tiny bridges to Passover the gaps between two platforms. Make sure you collect the keys that are given at some levels. You can use those keys and the diamonds you collect to unlock new skins or skaters! Let's grab your skaters and dive into the adventure!
If you enjoyed this fun 3D platform game, you should check out playing our collection of free online sports games to have even more fun gameplay!
Developer
2Play developed Sky Roller.
Release Date
January 07, 2022
Features
• 3D colorful graphics
• Multiple levels to complete
• Entertaining and addictive levels
• Intuitive controls
Controls
You can use the touchpad to move the character by swiping your fingers left and right.