Play Now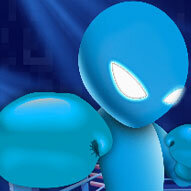 With Drunken Boxing, the duels will gain another aspect! The breaths are held, and the viewers are waiting out of patience! This match is going to be legendary. Two drunken boxers and one round is the matter. The only one will get the championship and leave with pride. So, get your friend, and let's see who is going to be that one now!
Welcome to the thrill of the fists! Today, you have a match to win with ultimate importance! There will be only one winner and the other will go home with nothing. What makes this match important is that your opponent is no ordinary one. It is your BFF! So, get your friends, sit in front of the screen and let's talk your fists. Player 1 uses the arrows and player 2 uses the WASD keys. Is it the strength of your fingers to make you win this competition or your brilliant strategies? We don't know yet. However, you must try your best to outpace your opponent. If you are up for a bigger challenge, you can select the 1 player mode and compete against the CPU! In either game mode, the player who completes the 5 rounds wins the match. If you are ready for this hot competition now, let's see if you can do whatever it takes to get the victory.
If you want to get into another hot competition with your besties and outpace them with your skills, then be sure to check Stick Duel Medieval Wars.
Developer
RHM Interactive developed this game.
Release Date
January 25, 2021
Features
2D colorful graphics
1 player and 2 player game mode options
5 rounds to win get the match
Entertaining and engaging gameplay
Controls
Player 1: Use the arrow keys. Player 2: Use the WASD keys.