Play Now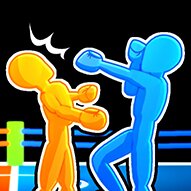 Drunken Boxing 2 brings a new meaning to 2-player competitions! You can either grab a friend to defeat them in front of all the audiences or win over the CPU to show off your skills! Both ways offer you the ultimate fun! All you need is your keyboard and a little bit of ambition to become the new champion. Get your fingers ready now, and click on the play button to see who is going to be the winner!
Boxing is not always an entertaining sports branch. It can get very savage and violent. However, there is nothing here that can harm you! You can just enjoy climbing the stairs of the championship! In this amazing 2 Player game, your objective is to win over your opponent. Who is going to be your opponent? No one ordinary, for sure! You can choose your opponent by inviting a friend or sibling to defeat them. You can also challenge the CPU and show off your victory! What you should do to get the victory is winning 5 rounds. At the top of the game screen, you can see the life bars of your character and opponent. Under them, there are 5 stars. Each wing will paint one of the stars. When you get all 5 points, you become the winner! Good luck, and may the best boxer win!
Never get tired of success and victory? Then, we have good news for you! Be sure to check our collection of online and free 2 Player games to show who you really are now!
Developer
RHM Interactive developed Drunken Boxing 2.
Release Date
August 11, 2021
Features
3D colorful graphics
1 Player and 2 Player options
Hot competitions to win
Fun and engaging gameplay
Controls
Player 1: "Arrow Keys", Player 2: "W,A,S,D" keys.