Play Now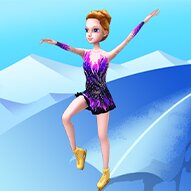 Come join the life of Roller Ski Queen and compete with other ice skaters in your kingdom of ice! Wear your favorite costume every morning and go out to race on an ice platform with lots of extreme obstacles! Be the first to reach your castle and put on a fancy dance show at the finish line!
Controls are simple but require a lot of focus. Just click or tap on the screen and hold to keep moving. You can slide right or left to avoid obstacles and collect gold coins. Also, collect magnets to pull coins around you. There are shields placed on your way; taking them helps you pass through the areas with dense obstacles without accidents. You have the best ice skates in the country because you are the queen, but it doesn't mean you are immune to the slowing effects of the track. So do not consider this a race against the other girls; your best competitor is the track of ice you are skating on. Do not hurry; collect as many coins as you can, so you can unlock even prettier skating costumes and keep rocking the dance stage in your palace!
If you like attending races as an ice queen, you can check out Elizas Heavenly Wedding and dress up our queen for her wedding!
Developer
YAD.Com developed Roller Ski Queen.
Release Date
March 14, 2022
Features
Beautiful 3D graphics
2 unlockable costumes
Easy to play
Challenging race tracks
Available on mobile devices
Controls
You can use your mouse to play this game.