The Builder Halloween Castle
Play Now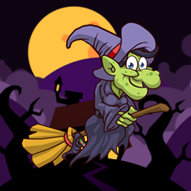 In the Builder Halloween Castle, the sky darkens as the witches fly over to you on their brooms, cackling and casting spells. Get ready to join these supernatural ladies in this fun game, and help them build a tower. With the full moon illuminating the land beneath, are you prepared to build the highest tower ever?
Zombies are busy with chasing brains, and vampires are lurking in the shadows. But this witch coven is here for business! Your objective in this game is to build a tower as tall as you can to earn a high score. You don't even need tools to add floors to this tower, as the only thing you need is your mouse. Start the game by clicking on the play button on the main menu. With their pointy hats and magical brooms, witches will join you in this project. A witch will fly over the construction site, and you need to tell her to let go of a floor by clicking on the screen. With each floor you place, you'll earn seconds and 10 points. If you place a floor on top of the other one in perfect alignment, then you'll earn more points! You can track your score from the top of the screen, and your time is located at the bottom. Be careful, as if you fail to place three floors or run out of time, you'll lose the game.
Oh, to be a witch flying through the night sky on a magical broom... Click here to join our cute character in Halloween Witch Fly!
Developer
Ant Pixel Studios developed this game.
Release Date
October 19, 2020
Features
Colorful 2D graphics
Intuitive controls
Entertaining and addictive gameplay
Witch characters
Controls
You can use your mouse to play this game.