Play Now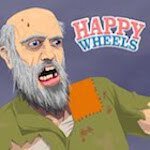 In Happy Wheels, you better hold onto your seat because you'll be going on a thrilling journey. Featuring interesting characters and challenging gameplay, get ready to survive through exciting levels filled with various obstacles! If you think you can reach the end without getting a scratch, then start playing now!
Not all tracks have to be scenic and pleasant, at least the ones you'll see in this game. The main objective of this game is pretty simple. All you have to do is to reach the flag at the end of each level without dying. All the levels are filled with deadly traps and other kinds of obstacles, so you better be prepared. Start the game by clicking on the play button on the main menu. Then pick from one of the 9 different levels. Lastly, pick a character to play as. Keep in mind that each has different vehicles. When you enter a level, try your best to overcome the traps and obstacles, and do your best to keep your character alive. If you'd like to create your own levels, you can use the level editor on the main menu! Enjoy!
For more exciting games like this, be sure to check our free action games collection by clicking here. Have fun!
Developer
Jim Bonacci developed Happy Wheels.
Features
9 different levels to complete
Colorful 2D graphics
A level editor to create your own levels
Intuitive controls
Entertaining gameplay
3 different characters that you can select
Controls
Use the arrow keys to move. Press the Z key to eject and the SPACE BAR to perform primary action. The SHIFT and the CTRL keys can be used to perform secondary actions.