Euro School Driving Coach 3D
Play Now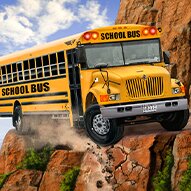 Hop on your big bus and enjoy a day with students in Euro School Driving Coach 3D! It's time for school and the bells are ringing. Hurry and catch your bus. A nice journey is waiting for you on the way to school!
This is a simulation game in which you will enjoy the feeling of driving a huge vehicle. As difficult as it sounds, you are likely to find the job easy. Drive carefully on the challenging roads and stop by the right spots to pick up the children. You can simply drive the bus with the WASD or the arrow keys. When you need to pick up or drop off the kids, you can open the door with the button on the screen. The game has two modes. You can unlock the free drive mode by watching a rewarded ad or go on with the career mode. Make sure to spend the money you earn with successful levels on buying better buses to enhance your career!
If you enjoyed playing this fun driving game, you should also check out City Minibus Driver for another driving simulation!
Developer
New Gamer developed Euro School Driving Coach 3D.
Release Date
September 26, 2022
Features
Realistic 3D graphics
Series of tasks to complete
3 camera views
Time and speed indicator on the right side of the screen
Controls
Use the WASD or the arrow keys to drive the bus.