Play Now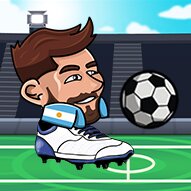 Captivate the audience with your kicks and strategies with Head Soccer 2022! Choose your enemy and character! Invite a friend, choose the two-players mode just to practice by yourself, or take your place against the CPU and start small to ascend through the world championship!
The whole sports world is crazy about a new type of soccer, and now you can play it against whomever you want! But first, you must dive into this realm of championship spirit where you are nothing but a giant head and one foot! We don't have hands here as no one needs them. Matches are now placed between two players, and the winner moves on to the next match while the loser gets eliminated. You can choose to invite a friend to this absurd football world or choose the single-player mode and play against the game bots with increasing difficulties. Try both kinds of kicks to learn your moves and build your strategy. Leaving the goal open almost always ends with tragedies, so always make sure the ball is not between you and your team's goal line, and score points against the opponent team before the time runs out!
If you like this game, you can check out Head Soccer World Champion and dive further into this new field of sports!
Developer
BestGamesDevelopers developed Head Soccer 2022.
Release Date
June 1, 2022
Features
Colorful 2D graphics
Character options
1P and 2P game modes
Increasing challenge level
Available on mobile devices
Controls
1P: Player 1 can use the arrow keys to move and "1, 2" to kick, while Player 2 can use "W, A, S, D" to move and "N, M" to kick.
2P: Use the arrow keys to move and "Z, X" to kick.