Play Now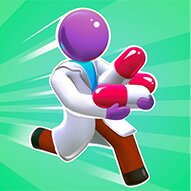 Take care of your patients personally, save lives with the help of science, and expand your hospital with Healing Rush! Human bodies are miraculous machines with beating hearts that pump blood to the deepest corners of these complex organisms, but what happens when something goes wrong in these mechanisms? Let's find out!
Let's introduce you to your new workplace; this hospital is where you make dreams come true and bring people back on their feet! Here you have all the medicine, help, and care you need to make these poor souls feel better in no time! You can start by picking up your first patient and laying them down on a hospital bed. Check for the illness by looking at the color of their head, and providing the right medicine for their treatment. After taking the pills you give, they will feel better and get up to leave the hospital. Treat your patients carefully and earn money for your services. You can use your income to get more beds and help more people at once. Improve the conditions of your hospital to take care of your city better and become their hero with no wings!
If you like treating patients and helping people, you can check out Hospital Doctor Emergency Room and take your place in dangerous operations to save more lives!
Developer
Dats Games developed Healing Rush.
Release Date
May 5, 2022
Features
Cute 3D graphics
Addictive and fun gameplay
Family friendly
Rewards and unlockable content
Controls
You can use your mouse to play this game.