Play Now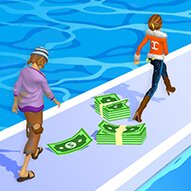 Make wise choices to survive in this world in Run Rich 3D! Life is full of different options and sometimes you have to make such choices that will lead you to a better position in life. Eventually, where you will end up in life depends solely on your choices, at least in this game. Now, let's see if you're wise enough to make the best choices!
In this 3D game, you will start the game as a poor and unlucky girl. You may be called a beggar when you start the levels. But when you start walking on the platform, you will have the chance to collect money as you walk. Although you'll be lucky and find some money on the road, you will also see some thieves. If you bump into those thieves, you will lose your money. More importantly, when you are given two choices to choose from, try to make the right choice. Studying or partying, working or playing video games, etc. One option will earn you money, one option will make you lose money. Another warning should be on the tempting options like wine and hamburgers which will also make you lose money. So, now try to make your status get as good as it can at the end of each round by collecting money and spending less. From beggar to a poor girl, then to middle-income girl and maybe to rich girl… Let's see how far you can go in a game with endless levels!
If you enjoyed this 3D arcade game, you may also take a look at Super Heels to have equally interesting gameplay.
Developer
YAD.Com developed Run Rich 3D.
Release Date
November 08, 2021
Features
3D colorful graphics
Multiple levels to complete
Entertaining and addictive levels
Intuitive controls
Controls
You can use the mouse of your computer to move the character and get the collectibles.