Play Now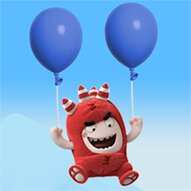 OddBods Looney Ballooney invites you to an amazing adventure high above the skies! This little buddy wants to discover flying and rule the skies on his own. But there are various dangers and obstacles ahead of him. Maybe you can help him to make his wish come true? The balloons can take you up, up among the clouds but can't save your life. Can you be his saver in this fun puzzle game?
Do you have fear of height? Even if you do, we are sure you are going to love this game and never get scared of high places after playing it! This cute boy needs your help to fly through clouds with his 2 balloons. He will face many obstacles and threats, though. What you'll do is to eliminate those dangers and open his path. It is not gonna be easy. You'll see thorns, shooting cactuses, flying birds with sharp beaks, and the most interesting, ninjas holding balloons. Guard your courage and solve the puzzles to save him. Use your mouse or finger to drag or move the objects. Don't hesitate to use your imagination and take all of your chances. If you fail, don't give up! You can restart your current level as many times as you want. Now we are asking you. Do you have what it takes to complete this mission?
Don't leave us yet! If you are up for more adventures like this, be sure to check our collection of free and online puzzle games to browse more fun titles like this game.
Developer
ONE ANIMATION developed OddBods Looney Ballooney.
Release Date
April, 2021
Features
3D colorful graphics
Several levels to complete
Endless flying adventure
Fun and engaging gameplay
Controls
You can click or tap on the objects to play this game.