Play Now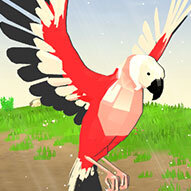 Parrot Simulator invites you to the wildlife as one of the cutest animals in the world! Have you ever wondered how would be like being a parrot? Even if you haven't, you can take the fun for granted in this fun simulation game! Fly in the air, hunt to stay alive, and complete the missions to level up. Are you up for this survival challenge?
It's time to step into the wildlife. This time, you'll be a parrot and watch your enemies from a million miles above! Once you enter the field, you must start watching your back immediately. If not, other wild animals can come to hunt you. You can upgrade your character stats and unlock new skins as you complete the missions and achievements. You can see your life and energy bar from the left top of the game screen. As you proceed in the game, you can build your own family too! You can either stock the foods you find on the ground or eat them right at that time to restore your health bar. Check the map, family, character features, upgrades, and achievements from the main menu. You can also see a small version of the map at the right bottom corner. It shows you the threats and the foods around you. Good luck and fly high!
What do you say to be a tiger in the wild this time? If you are interested, then be sure to check Tiger Simulator by clicking here.
Developer
CyberGoldfinch developed Parrot Simulator.
Release Date
March 3, 2021
Features
3D flying simulation as a parrot
Stat upgrades and different skins
Minimap to track
Various predators to avoid
Controls
WASD keys or arrows to move around. "Q" to go down and "E" to jump/fly up. SPACE BAR to take off and SHIFT to speed up. "H" to hide interference. "L" to unlock/lock cursor.