Play Now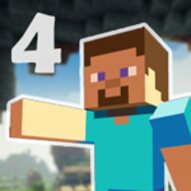 Build your own world in Mine Clone 4! You have a vast of opportunities before you in a whole new world. Get ready to build your own world and build everything in it all by yourself! And if you love to work with pixels, then you will be the biggest fan of this game!
Here, you will find yourself in the first-person point of view. You have a weapon in your hand, but you won't be using that weapon to eliminate your enemies. Instead, you will be shooting down blocks. If you wish, you can make some blocks disappear, but you can also build up some new blocks if you like. Use the E key to open your tile inventory. There, you will see many kinds of tiles such as but not limited to dirt, sand, rock, wood, or leaves. You are free to choose any of them you like and build constructions of any kind and shape as you wish. Feel free to create a world all up to your wishes; choose the gameplay, determine the world size and the day length, and set a generator. Later, you will be on your own to play around with these mine tiles! Let's see what will come out of your hands!
If you enjoyed building up a whole new world with your own choices, you should check out our other free and online adventure games for similar gameplay!
Developer
Great Games developed Mine Clone 4.
Release Date
March 29, 2019
Features
• 3D colorful graphics
• Random custom world to create
• 3D pixel art!
• Requirement of strategic thinking
Controls
You can use the WASD keys to move, the E key to open the tile inventory, and then left-click to build or remove tiles.