Play Now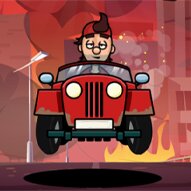 Use the gas and brake pedals to keep your balance with HillClimb Simulator! Get challenged by the land shapes, your vehicle, and the other drivers! Adapt to the changing climate and backgrounds, keep your focus on your goal, and leave your opponents behind! Let's see how you do in this skill game!
This here is not just another speed race. Here, we test your patience, balance, and reflexes. Speeding toward the finish line on a straight track is a child's work; here, you get challenged by nature itself! There are slopes, cracks, and jumping ramps on your path to the gold cup. You need an alive driver to keep competing, so put your driver's safety first. Do not let the car tilt too much to the left or right. You get disqualified if the car turns upside down; however, you get extra points for each full spin. Try to collect every gold coin on the road; you will need them later. Stop by the garage between games to choose between cars and upgrade the stats of your car. You can use your money to upgrade the speed, jump, armor, and acceleration of your vehicle. Keep trying, and complete all fifteen levels!
If you like this challenging car race, you can check out our Racing Games to find new challenges for yourself!
Developer
kiz10.com developed HillClimb Simulator.
Release Date
August 25, 2022
Features
Funny character designs
Unlockable cars and upgrades
Nice graphics
15 levels
Available on mobile devices
Controls
You can use the arrow keys to play this game.