Play Now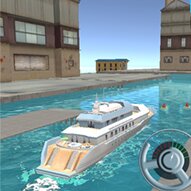 Take control of a luxurious sea vehicle and pass between obstacles to reach the parking line with Super Yacht Parking! Get lost in the crystal water and mesmerizing surroundings while enjoying your ride on the waves! Learn to drive with a beautiful yacht and keep up with the increasing challenge!
Pack up your best swimsuits because we are going on a cruise! We got everything planned; even the yacht is ready for you. The only problem is, even though we know how to ride it, there is no one in the crew who can properly park a yacht. So, this is how you get this trip free; by parking it whenever needed. Now you can enjoy the stunning view, swim all you like, and have fun controlling this giant vehicle. There is a countdown on the top right, and it is your objective to reach the destination before it hits zero. Avoid losing the balance of your ship because it can easily crash and turn upside down, leaving you with no choice but to restart the level. Master the precise steering of your vehicle and get over any obstacle on your way to complete all twenty levels of challenge!
If you like driving sea vehicles and beautiful 3D surroundings, you can check out Jet Boat Racing and explore the waters with five unlockable boats!
Developer
Web Entertainment Limited developed Super Yacht Parking.
Release Date
May 19, 2022
Features
Colorful 3D graphics
Relaxing theme and gameplay
Easy controls
Amazing scenery
Controls
You can use the arrow keys to move, "C" to change the camera angle, and "P" to pause the game.