Play Now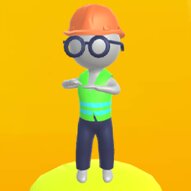 Complete various challenges in the 3D world of Stumble Boys Match to win tournaments and earn rewards! Join deathmatches that are chosen randomly, watch other players fall while you keep climbing up, and finish a series of physical and mental tests! Stay at the top of the list and build tactics for each game to keep winning!
Get ready to leave other players behind in various types of races and be the last one standing on the platform! Hit the start button now to meet your fate! Wait as the game chooses a random match for you and the other players. The classical Running Game and the Door Game are similar at some point; you try to reach the finish line before the others. Running race has traps and obstacles coming at you, while the door race leaves your chance to luck as you rush through doors. Guess Game requires you to memorize the tiles and stand on the right ones. You try to get rid of the bomb in the Bomb Game, while your job is to get and protect the tail in the Tail Game. Finally, keep away from the crumbling tiles in Falling Game. Good luck!
If you like this competition of various randomized races, you can check out our other Racing Games to find more games like this!
Developer
Mad Buffer developed Stumble Boys Match.
Release Date
July 28, 2022
Features
Colorful 3D graphics
6 unique games
Different arenas for each type of race
Unlockable skins
Available on mobile devices
Controls
You can use your mouse or "W, A, S, D" to play this game.