Play Now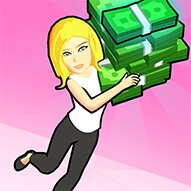 Build your clothing brand, invest in new branches, and watch the cash flow in with Idle Fashion Shop! Start from scratch, hire employees, and save every dime you get to buy new shelves and grow your shop! Watch your new business take its first steps, expand its borders to new stores, and evolve into a temple for fashion icons!
Some follow fashion while some lead it. With this game, you can be the one in control of the latest trends! Start small, deal with customers in person, run around the shop to replace goods, and watch your empire grow! It's really simple! Walk around the shop, grab some clothes from the storage, and place them on racks and shelves to replace the missing products. You can unlock new features as the store grows. Hire up to four employees to get some weight off your shoulders and serve your customers better. Upgrading the quality of your goods and services also increases your income, helping you jump to the next step and open a new branch faster. Watch out for the VIP customers; they leave money bags around the store. Grab them and watch a short ad to multiply your bonus and add to your income! Keep opening new stores to become a trend legend!
If you like this game, you can check out our other Girls Games to find more games like this!
Developer
YAD.Com developed Idle Fashion Shop.
Release Date
September 9, 2022
Features
Nice 3D graphics
Shop upgrades and unlockable options
Simple controls
Fun and colorful game theme
Available on mobile devices
Controls
You can use your mouse to play this game.