Incredible Princess Eye Art 2
Play Now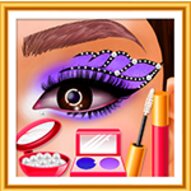 You are invited to watch the magic of makeup art happen with Incredible Princess Eye Art 2! Can you help our model carry the stars and nature in her eyes with the help of makeup? Here you can express your inner makeup artist freely. Breathtaking colors and unique designs are waiting for your touch. Discover eight different images, all involving a whole different kind of beauty.
Unlock the images by simply clicking on them or watching short ads to find out the next makeup design waiting for you. The photo you unlock directs you to the beauty salon filled with high-quality eye makeup materials. In this salon, you can create an ombre effect on our model's eyebrows, put on different shades of eyeshadows, and use the power of colors to create fabulous effects and shapes like stars, clouds, and hearts. Don't let the complexity scare you because the game will help you through all the process. You will be instructed to apply the makeup our princess dreams of. Just sit back, relax, and watch her fancy dreams come alive with a little help from you! No doubt these bright colors and pretty gems will inspire you.
If you would like to play another game like this, you should check out our collection of girls games here.
Developer
DL-studio developed Incredible Princess Eye Art 2.
Release Date
November 3, 2021
Features
Pretty and bright choice of colors
8 different levels with different styles
Easy to play, simple controls
Available on mobile devices
Inspiring looks
Controls
You can use your mouse and follow the instructions to play this game.