Play Now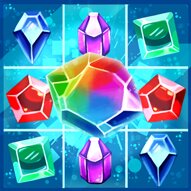 In Jewel Magic, open the gates to the magical kingdom of jewels and become a part of this fun adventure. Featuring colorful 2D graphics and fun gameplay, this game will keep you hooked. Are you ready to venture into worlds never seen before?
Welcome, stranger. The magical jewels call you for an adventure full of magical colors. Featuring similar gameplay to other match-three games, this game will make you want to play for hours on end. There are 120 different levels with the same objective. You need to collect as many points as you can to finish each level. You can use your mouse to play this game. Just click on one of the gems and drag it to the other same-colored gems. When you match three of them, they will vanish and you'll earn points. If you match more than three gems, you will unlock bombs and special gems that will make you destroy multiple gems at the same time. You can even match them together and more points. When you reach one star you complete a level, but why settle for one star when there are three stars, right? Keep in mind that the number of moves you have is limited. You can keep track of it by looking at the top of the screen. Have fun playing!
If you are looking for more games like this one, you can check out Microsoft Jewel by clicking here. Enjoy!
Developer
Inlogic Software developed Jewel Magic.
Release Date
June 14, 2021
Features
Nice 2D graphics
120 levels to complete
3 power-ups to use
Fun and addictive gameplay
Controls
You can use your mouse to play this game.