Play Now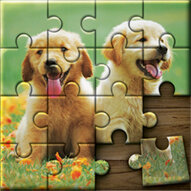 In Jigsaw Puzzle, one of the most popular pastime activities is available to play from your web browser! Featuring fun gameplay and nice 2D graphics, you now have access to tens of jigsaw puzzles you can complete online. How many jigsaw puzzles do you think you can complete in this fun kids game?
Jigsaw puzzles have never been more fun! The online version allows you to play this game not just from the comforts of your home but whenever and wherever you want! There are many puzzles you need to complete, so we better begin now! In this game, your objective is simple. You need to complete all the puzzles. At first, only 10 of them are available to play, but as you progress through the game, you can unlock more of them. The pictures feature cute animals, fruits, landscapes, and many more awesome sights! In each picture, you are given 2 choices. The first one is the number of pieces. If you are a beginner, you can go with 48 pieces. However, if you are looking for a real challenge, 108 pieces will do the trick. You can also choose to swipe them to find where they fit. This choice proves more of a challenge, so it all depends on you! At the upper right corner of the screen, there are buttons that can help you complete the game. There are also special levels with a time limit or no hints. Have fun playing!
If you want to play more games like this one, you can check out our collection of online puzzle games by clicking here. Enjoy!
Developer
Inlogic Software developed Jigsaw Puzzle.
Release Date
April 13, 2021
Features
Many different puzzles to complete
Nice 2D graphics
Intuitive controls
Fun and addictive gameplay
Controls
You can use your mouse to play this game.