Lady Strange and Ruby Witch
Play Now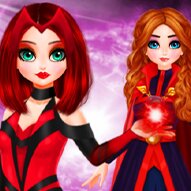 Dress up and stylize two of the most powerful women of the universe with Lady Strange and Ruby Witch! Villain prisoners on the run? Lady Strange and Ruby Witch will be there to save the world. An inhumane experiment running out of control, or the criminal mastermind is sending a gigantic meteor toward the world? These two girls have all the answers!
Keeping the universe safe from evil attacks is indeed a lot of work, but none of these would be possible if not for the unique styles of these two women. Keeping the ordinary flow safe is important, but keeping their styles in check is a must! So they need the eyes of a professional before their trickiest missions because what is a superhero without a cape? Of course, you will have to do more than a couple of capes. Start with the transformation of Lady Strange, and put on her makeup. You can go with natural peachy tones or choose a daring look for flashlights! Then, move on to her wardrobe and choose her new hairstyle and for the last step, clothe her for her latest heroic adventure. Now you can take a look at Ruby Witch's style and do her makeup and hair. Lastly, dress Ruby Witch and take a look at the new styles of these heroines in the same scene! Have fun!
If you like dresses and makeup, you can check out our Girls Games category and find more games like these!
Developer
DL-studio developed Lady Strange and Ruby Witch.
Release Date
June 3, 2022
Features
Family-friendly
Strong female figures
Fun for all ages
Easy to play
Excessive wardrobe and makeup choices
Available on mobile devices
Controls
You can use your mouse to play this game.