Ladybird Secret Identity Revealed
Play Now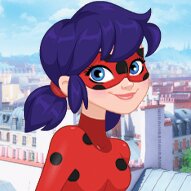 The masks will be unfolded in Ladybird Secret Identity Revealed! Marinette and Adrien are regular teenagers in their school by day, but they save people's lives as superheroes by night. They don't know who they really are when they're fighting against enemies together. But today all the secrets will be unleashed. Can you help these two get ready for the big day?
Marinette and Adrien are so excited about this big day. Adrien has been in love with his sidekick Ladybird, and Marinette has had a crush on her school friend Adrien for so long. The funny thing is they don't know who these people really are. They will have the surprise of their lives when they see they have been there for each other for all this time. And yes, they are superheroes, and they already love each other, but still, they need your help. They need you to get them ready for this super important date! Although they actually know each other in their regular lives, still the first impression matters. So, get our beautiful girl and handsome boy ready for this date and see what their reaction will be! Do you have the taste to get them ready for a big date?
Did you enjoy playing this identity-revealing dress-up game? If yes, you should check out our collection of free and online girls games by clicking here.
Developer
Top Girl Games developed Ladybird Secret Identity Revealed.
Release Date
October 21, 2021
Features
• 2D colorful graphics
• Your two favorite characters
• Fun gameplay
• Variety of clothes and accessories
Controls
You can use your mouse to choose options.