Late To School Hairstyles
Play Now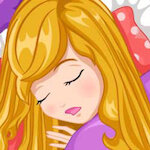 In Late to School Hairstyles, you should help this poor girl to get ready for school! Because of gossiping too much on the phone last night, she couldn't get up in time this morning and she has so little time to get ready. Also, since she cares too much about her appearance, she needs a good hairstyle before going out. Let's start the game and give her a fancy look!
Get ready to spend minutes in a rush while playing this game. Since this cute little girl is too late to school, she needs your help to get prepared. First, wash her hair by using the best shampoos and conditioners. Before passing the style, you should dry the wet hair with a towel and hairdryer. Luckily, there is a perfect catalog at home to help you to choose the best hairstyle! Select one that you want and get to work! First, brush her hair gently and follow the guides to make your style. Last, but not least, you can change her hair color at the right side of the game screen, and you can use various accessories to make her look even much fancier! If you like the result, you can try each style at home for your hair too! Show everybody that you are the best hairstylist!
If you want to continue with fashion, clothes, and hair to create your style, then be sure to check Tik Tok Princess.
Developer
Dress Up Who developed this game.
Features
2D colorful graphics
Different stages to prepare the girl
Various hairstyles to choose
Entertaining and addictive gameplay
Controls
You can use your mouse to play this game.