Lego Ninjago Flight of the Ninja
Play Now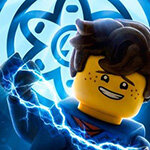 With Lego Ninjago Flight of the Ninja, be ready for a long-distance launching experience without any borders! You will not believe how long can you fly up high in the sky even with only one left-click! All you need is your mouse and a little bit of eye coordination skills to break your own score over and over again! If you are ready to fly, let's start the game now!
Our little ninja is chosen for a great experiment about a new type of catapult. Designed specifically to collect the gems and boosters hanging on the air, this catapult is all ready to launch. Your objective in this fun skill game is to launch the ninja character as high and far as you can to get a higher score per each try. You should also try to collect the gems and light blue boosters to help the ninja fly longer. You should extend the rope of the catapult and adjust it to the perfect direction to make the launch more powerful. Once the ninja starts falling down, you can left click to use your boosters given at the bottom of the screen. If you can catch the boosters on the air, the collected ones will replace the used ones. Good luck and enjoy your flight!
Now that you handled this adventure successfully and want to try another one with a flying Santa, then be sure to check Santa Can Fly.
Features
2D colorful graphics
Boosters and gems to collect
Intuitive controls
Entertaining and endless gameplay
Controls
You can use your mouse to play this game.