Play Now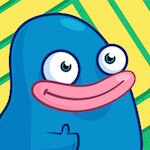 With Maze Monster, you are about to step into a big maze where you should reach the delicious candy! Like everybody, even the monsters can crave a sweet treat. But this creature is so small, and the maze is so big. You need to help him to reach his food and fill his stomach. All you need is your mouse and quick fingers to lead the cute monster. If you are ready, let the adventure begin!
This whole fun puzzle game is only a matter of time! But you should fill your stomach with chocolate or candies in case you want to eat the treat of this cute little monster. Your objective is to direct the creature by dragging your mouse in the right direction for him to reach the candy. You have a limited time to catch for each level. You can see your timeline at the top of the screen. You will receive a maximum of 3 stars according to the speed of solving the puzzle. The timeline is divided into 3 parts that determine the number of stars you will get for your current level. Now, let's see how many levels can you pass with receiving all the stars!
Be sure to check our collection of free and online puzzle games to browse more fun titles to brainstorm and complete the most challenging levels by using your logic.
Developer
Kizi developed this game.
Release Date
March 5, 2018
Features
2D colorful graphics
A cute monster character to control
45 challenging mazes to solve
Entertaining and addictive gameplay
Controls
You can use your mouse to play this game.