Play Now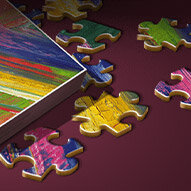 Microsoft Jigsaw is full of amazing pictures for you! Would you want to go to hidden islands where no one can find you? Maybe a fun vacation in which you need no thinking about tomorrow? What about exotic animals that you have never seen before? You can find all of them playing this amazing jigsaw game! Choose the picture that presents your inner voice then select the difficulty level. You will never get tired of completing these pictures!
Get ready to jump into different fascinating worlds of jigsaw puzzles! You can find any kind of pictures and images here, best fitting your taste of living. If you are new to this puzzle concept, your objective is to combine the pieces and create a whole picture that you have selected earlier. First things first, choose a photo based on the category that you want. Then select the difficulty level which is determined according to the number of the pieces. There is a "lock view" button for you to hold the table still. You can see the preview of the completed picture with the next button of the "lock view" button. If you get stuck, you can use the "arrange" button and sort the edge pieces! As you proceed, you can track your timing and challenge yourself while racing against time. Good luck now and have fun playing!
Don't leave yet! We have other fun jigsaw puzzles for players of all ages. Be sure to check our collection of free and online puzzle games by clicking here to browse more fun titles like this game.
Developer
Microsoft developed Microsoft Jigsaw.
Release Date
May 6, 2021
Features
3D colorful graphics
Hundreds of pictures to choose
3 difficulty levels to select
Entertaining and engaging
Controls
You can use your mouse to play this game.