Play Now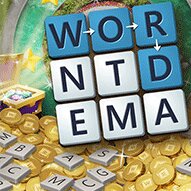 With Microsoft Wordament, you are invited for 3 fun word challenges! If you can't get enough of these word adventures, you can also enjoy the daily challenges. You can compete against opponents from all around the world. Bored of classic game backgrounds? Good news! Change your background theme, get your awards and climb high through the statistics! If you are ready now, let's see what you have got!
In this fun word games collection provided by Microsoft, you can enjoy 3 different adventures. Each one has specific goals with specific challenges. In the first challenge, the Wordament, your objective is creating words by using at least two letters. Use the letters situated on the right side of the game screen. Check how many words you have found, your current level, points, and AL words. In the second game, the Word Twister, you should use the mixed letter from the bottom of the screen and create new words. You can see your scores and other indicators from the top in this adventure too. In the third challenge, Crosswords, you will wire the correct word on the board given on the left to solve these puzzles. Don't forget to enter the daily challenges! Never hesitate to use your hints and rewards either! Good luck now, and have fun playing!
Be sure to check our collection of free and online word games by clicking here to browse more fun word game titles for players of all ages like this one.
Developer
Microsoft developed Microsoft Wordament.
Release Date
June 17, 2021
Features
3D colorful graphics
3 different word games to enjoy
Changing the game theme
Achievements board and daily challenges
Controls
You can use your mouse to play this game.