Play Now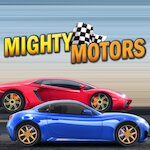 In Mighty Motors, it's time to hit the road and conquer every street. You're about to participate in a series of drag races. You're a feared opponent and already started to build a reputation. And now, it's time to prove that no one can beat you in drag racing! So, get in your car and get ready to ride hell for leather!
There's nothing more exciting than drag racing. And you're the best of the best. Your objective is to compete against other players all over the town and be the first one to cross the finish line. Since you're new in this town, you're going to have to prove yourself first. To play, choose a race and press the race button that appears in the bottom right corner of the screen. Tap the pedal you see at the right side of the screen and try to keep the rev needle in the green arena. Get ready! Vroom vroom! And here you go! Oh no. You're too slow. Time to pick up speed! To go faster, you need to change gear. Tap the space bar when the rev needle hits the green area to do this. Woo-hoo! You won! Try to win as many races as possible to get more money to spend on new cars and upgrades. There are a lot of cool cars that are waiting for you in the shop. Check the city map and find new races in town to taste victory again.
If you want to check out more games like this, visit our online collection of free racing games to browse more titles. Enjoy!
Features
Many customization options
Different cars to buy
Fast-paced gameplay
Nice 2D graphics
Controls
Use your mouse to play. Tap the space bar to change gear.