Play Now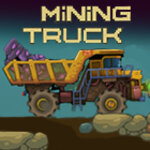 In Mining Truck, the local mining facility needs a new driver to transport the ores, and you're the best person to do that! Jump into your monster mining truck and get ready to traverse through challenging roads to deliver the ores to the destination. Can you overcome the obstacles on your way and complete all the levels?
Featuring 8 different and challenging levels, your objective in this game is to complete them all. To start the game, click on the play button on the main menu. On each level, you have a time limit that you should pay attention to. Running out of time before carrying your cargo to the drop off will end the game. When you start, wait for the ores to be loaded on the back of your truck. Then, use the arrow keys to move around the level. Be careful though! You should maintain your balance or you'll lose your cargo as they'll fall off. Once you reach your destination, you should park your truck under the unloading station. Wait for a few seconds as your cargo is being unloaded, and you will complete the level. Your score is based on your remaining time and the amount of cargo you've delivered.
For more games like this, be sure to check our collection of free car games by clicking here! Have fun!
Developer
Mining Truck is a game by Anton Harlov.
Features
8 different levels
Colorful graphics
Challenging gameplay
Simple controls
Controls
Use the arrow keys to control the truck.