Play Now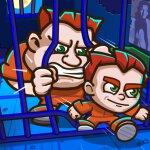 In Money Movers, we dare you for a prison break! We have no idea what you and your brother did wrong, but you ended up in one of the most secured prisons in the whole country. Can a tiny little metal cage and some silly guards hold you in there really? Don't think so! You need to dodge all the security and find your way out of this place as soon as possible!
Wow! This prison has so many floors and rooms to pass! But you know what they say, teamwork makes the dream work! Grab your friend and be ready to sit in front of the screen for the most thrilling prison break ever! Use the WASD key and arrows to move your characters and follow the way through out of this prison. To jump, you can just press on the up arrow and SPACE BAR. Obtaining freedom again and collecting money at the same time? This is what we call a big plus! Both characters have different features in this fun puzzle game. The young one is way faster and can fit the small spots in the building, compared to the old brother who is capable of throwing objects and can hold his brothers on his shoulders. To avoid the obstacles, move the characters according to their talents. Good luck!
Be sure to check our collection of free and online puzzle games to browse more fun titles like this game.
Developer
Meow Beast developed this game.
Release Date
October 24, 2017
Features
2D colorful graphics
Can be played with 2 players
20 challenging levels to pass
An unlockable bonus level
Controls
Left and right arrows to move, the down arrow to go down and up arrow to jump for the big brother. Use the WASD keys in the same way to control the small brother and SPACE BAR to jump.